Last Updated on November 30, 2022 by
All About Nitwit Villager Minecraft
Minecraft is a game in which characters, plants, animals, and other materials are present. These all things are used to show the game like the real world. There are many interesting characters in Minecraft, but to make this game more interesting, the Nitwit villager is a character in the game. There are many more characters present in the game, such as "Jesse's Gang," "Bosses," "Redstonia," "Sky City," "The Old Builders," "The Blaze Rods," and many more.
The mobs in Minecraft that interact with each other and work according to their occupation are called villagers. The attire of villagers specifies their occupation. Additionally, they can trade items like currency and gems. Nitwit villagers are also like any other villagers in Minecraft. The Nitwit villager has a green robe, and it has no profession. Nitwit villagers stand around like a crowd. These Nitwit villagers also breed with other villagers. The child grows up and becomes a Nitwit villager in a few days. The most exciting thing is that they eat and like to eat when people give them food.
Nitwit Profession & Appearance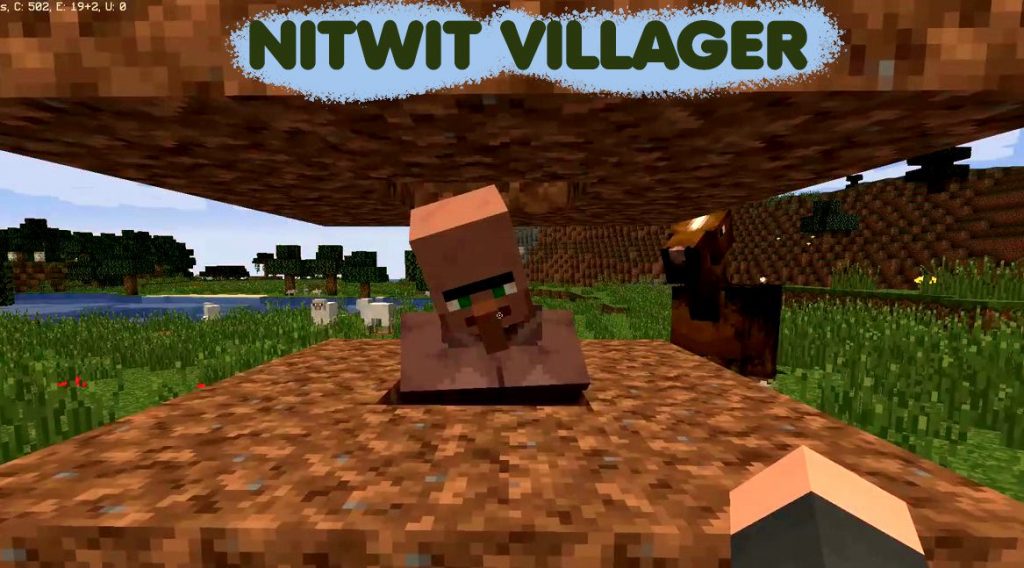 The villagers have different appearances and work. The Nitwit and other villagers have the same appearance, but the difference is in the color of the robe. The Nitwit villagers have specific green robes and are always present around. The villagers do different work and trade with other villagers, but the Nitwit villagers don't have any specific profession and don't have anything precious to trade, so they stand still in the game. They walk around just like a villager, and they also sleep. They do not create any disturbance for players.  
Who Can Kill Nitwit Villager?
Nitwit villagers are like ordinary villagers; they don't disturb any player, but when players kill any villager, especially Nitwit villagers, it's hard to escape from them. They get angry and run after the players. The player needs to run for their survival.
Different Villagers Jobs in Minecraft
Minecraft villagers have different jobs that they do. They work on trading emeralds, and it isn't easy to trade with the villagers. Some villagers give you emeralds, while some give you other items for trading, as Nitwit villager is an unemployed villager and doesn't have items for trading. Following are the jobs that villagers do.
Farmer:
Farmers in Minecraft have the job of growing crops. They have hay hat, and the robe has different colors. The farmer villagers trade emeralds for their crops. For trading, these farmers grow different types of crops, such as wheat, carrots, melons, potatoes, and many more. They trade emeralds and buy many other food items.
Fisherman:
It is easy to identify the fisherman with their brown hat on their head. They also have a fish on their clothes and do barter for emeralds. They give different types of fish and use coal and boat. You can also go boating, camping, and go fishing.
Leather Worker:
As Nitwit's villager is the same as other villagers, they don't work or have emeralds. There are leatherworkers in Minecraft, and you can identify them with their leather apron and leather gloves. They do leatherwork, and they trade different leather for emeralds. These workers also trade the horse saddle by trading emeralds. They can also trade different leather objects such as hats, pants, leather boots, etc.
Butcher:
The villagers have a white apron and brown headband, which shows that the villager is a butcher by profession. You will be happy to earn emeralds by trading meat. You hunt the meat and trade with the butcher for emeralds.
Nitwit Villager Badge
As Nitwit villagers don't have any jobs, but they have badges. These badges are only with the Nitwit villagers as other villagers don't have any badges because they trade and have their occupation for trading emeralds or other items.
Movement of Nitwit Villager
Nitwit villagers have no work to do, so they move around in the village in the daytime. They don't have a specific place to stay. That's why they move in and out of the village. They remain inside the boundary of the village. Some villagers interact with each other, and some move and mumble. Some babies jump and play around. If the player gets inside the village at night, villagers stare at them. Some Nitwit villagers also save and keep themselves away from the heights and blocks which can harm them.
Villagers Storm Cloud
There is a purple swirl, which means the villagers have a sad mood or are sick. When the players talk too much with the villagers, the villagers have a purple storm cloud to show anger, and it remains for some time then they start moving around.
Conclusion
Nitwit villager is a character in a Minecraft video game. Many other characters in the video game players enjoy their presence and get emeralds and other items from them. These characters have jobs and trade currency, emeralds, and different items. These jobs include butcher, fisherman, clerk, leatherworker, farmer, and armor occupation. Nitwit villager is a typical character who roams around the village but has no specific occupation. It also has no other item of emerald that he trades. Nitwit villager has no job, but this character likes to breed with other villagers and loves to eat. Players give them food to eat, which they enjoy. The Nitwit villager also gets angry and makes difficulties for the player if the player kills one of the Nitwit villagers.
Apart from this, if you are interested to know about How to Create Smooth Stone in Minecraft? Visited our Gaming category.
FAQ's
In how many days does a child villager turn into a Nitwit Villager?
It takes about five to six days to become an adult villager.  
Can villagers climb the top roof or fence?
No, the villager can just open the door, roam around, or socialize, but they cannot climb up the blocks and top roof or fence.
What are the effects of lightning on villagers in Minecraft? 
In Minecraft, there are many effects on the villager with different things. When lightning strikes the villagers or baby villagers, they turn into witches for a few minutes.
How long do the villagers stay angry?
The villagers stay angry for about 5 minutes.