Last Updated on August 3, 2023 by
4b hair type features tighter, more tightly packed curls than type 4a natural hair. If you carefully pull a strand of 4b hair down, you'll see that it creates tight "Z" curls vertically. And perhaps this is why many women believe that natural hair is difficult to style.
But to be honest, there are many styling options available when it comes to this type. We've listed 5 ideas to style your 4B Hair with little or no effort. Take a look!
1. The Bandana-Way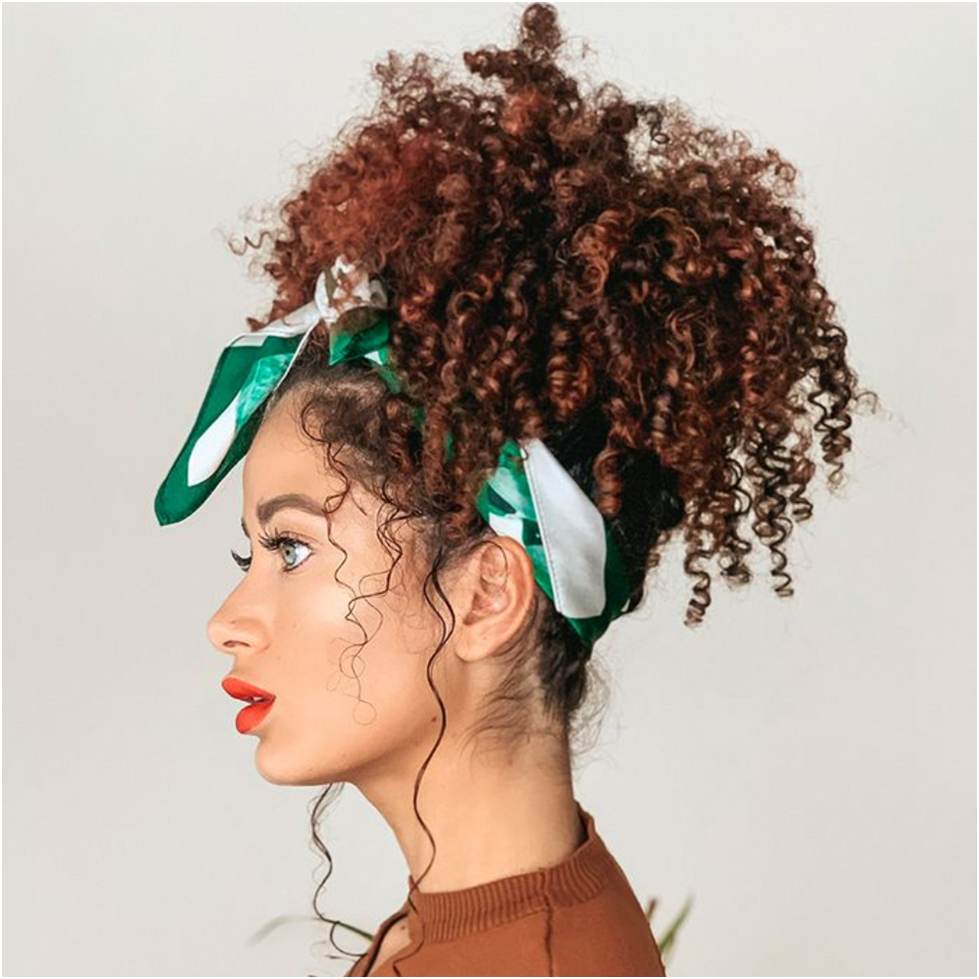 The bandana style is one of the most popular and simple ways African-American women style their long 4b hair. There are several exquisite silk/satin bandanas here on the market that you can match with your outfits or special events.
Fold the bandana into a triangle/rectangle shape, like a hairband, and tie the knot in the center or side. It's a simple way to dress up your 4b natural hair for a summer outing or workout.
2. The Pine-Apple Updo
If you are a naturalista, you'll know that pineapples are love and life, even when it comes to hair! The high ponytail looks exactly like the acidic fruit worn with zara mk. Pull your full hair into a high ponytail, secure with some funky scrunchie.
If you already have bangs or baby hair that you're proud of, finger coil these strands for a tousled yet put-together look. The coily bangs will upgrade the hairstyle to some other level. Try out this chic style on your 4b or 4a natural hair any time of the year.
3. Afro-Inspired Half Up Half Down
A half-up, half-down hairstyle may complement a variety of characteristics, but it can be taken to the next level by including some African-inspired elements. Add two-strand twists, charms, beads, and decorative puka shells to make it stand out.
The contrast against the 4b hair type is amazing. If you are searching for something to complement your dashiki or going out for a Sunday brunch with your fam-bam, this is the style to opt for.
4. The Bantu Knots
Bantu knots are a great choice for a stylist-approved protective style for your 4b hair. Bantu knots are a hairstyle that originated with the Zulu people of southern Africa. The hair is sectioned off, twisted, and coiled in such a manner that the hair stacks onto itself to produce a spiraling knot.
Bantu knots are accompanied by another hairstyle known as the Bantu-knot-out, a stunning hairstyle for 4b hair. So when you open your knots, you have a new hairstyle. Isn't it something to be excited about?
5. Loc It Up!
Locs are the ideal length-retention style for long 4b hair aspirations. They nevertheless provide the same styling versatility as loose coils. Locs are like the legend of hairstyles for 4b or 4a natural hair.
Most people like two-strand twists, which are quite simple to do. To perform two-strand twists, segment your 4b hair according to the size of your desired locs. Now divide each part in half, and twist from root to end until you have it in your full hair.
Conclusion
We hope that our lovely ladies will be inspired to attempt these styles. If you don't have type 4b or 4a natural hair but want to flaunt it, go to Indique Virgin Hair Extensions online or in-store. Everything you need for your hair can be found here, including curly clip-in hair extensions, hair care basics, and much more. Ladies, hurry up!