Last Updated on February 14, 2023 by Faiza Murtaza
Ballston Quarter in Arlington is quickly becoming one of the hottest stops in the country! Not only do you enjoy fun shopping and sightseeing, but you can also cut loose having fun with friends and family.
These are some of the most popular things to do in Ballston Quarter, and why this area offers so much!
The Mosaic Park
The Mosaic Park is a big deal!  This fantastic collection of slides, pools, playgrounds, and other water features ensures you and your family will have fun in the sun regardless of how hot it gets.  This is a highly rated park with 4.8 stars out of five and has been called the best place to run off extra energy in Arlington.
Immerse play features, hands-on exhibits, and local and tourist playmates to ensure your children have the time of their lives!
Immersive Gamebox
There's nothing as fun as finding a place that feels like you've got a secret hangout! This well-hidden immersive escape game and virtual reality center may be Arlington's best-kept secret!
Here you can have a great time playing hands-on with others and getting to pick your adventure! This is an affordable and exciting time that offers drinks and food for anyone who wants an entire evening of fun.
The Muse Paintbar
Unwinding is a big deal after a long day of looking at Arlington real estate!  Why not unwind with a glass of wine and some fun paintings to accomplish?  Muse paint bar allows you to stop, drink, and create something incredible.
This is a fun date night idea, or you can connect with friends and older family as you create together. Not only do you create something you can take home and show off, but you also get the chance to try flavors of wine you may have never heard of!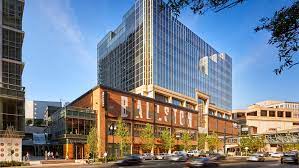 Punch Bowl Social
Why not try something delicious while you're in town?  This fun and exciting breakfast and brunch place allow you to cut loose and have a great time.  With fantastic food ranging from homemade chips to delicious chipped beef sandwiches, you'll want to return again before you even finish your first meal!  Although this is an early afternoon experience, you'll want to start your day here!
Taste of Arlington
Everyone loves a unique local event, and Taste of Arlington checks every box you could possibly have! Giving you a fantastic tour of the area through the flavor, this local event allows you to get to know Ballston and Arlington through your taste buds. There's a small cover charge, but it's nothing compared to how much you get to do and see while you're here! Locals adore the chance to have fun and cut loose, and tourists love the opportunity to really understand the area.
You'll Have the Time of Your Life Here!
Arlington understands the importance of fun and excitement! Check out some of these amazing experiences, and you'll want to come back time and time again!
Apart from this, if you are interested to know about "Logan Paul" then visit our Lifestyle category.