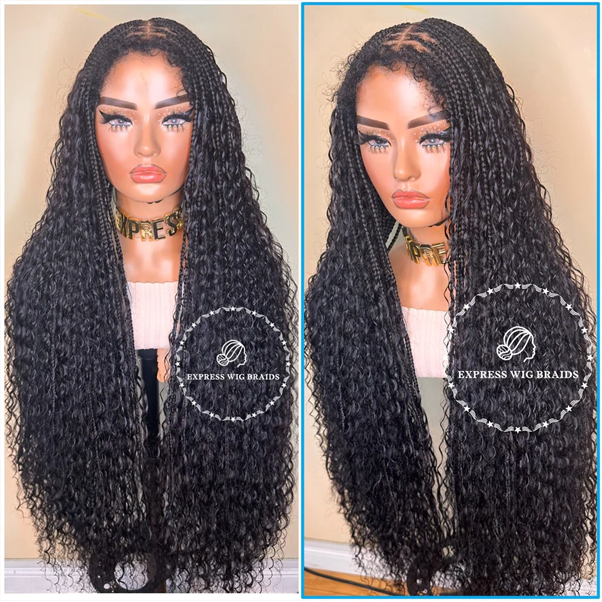 Braided Wigs Braids have long been celebrated for their cultural significance and timeless beauty. They are versatile and practical hairstyles that can be customized in countless ways to suit individual tastes. However, achieving the perfect braided look can be time-consuming and challenging. This is where braided wigs come into play, revolutionizing the world of hair styling. These wigs combine the artistry of braiding with the convenience of a wig, offering wearers the chance to effortlessly switch up their look with stunning braided hairstyles. 
A Work of Art:
The Making of Braided Wigs is a testament to the craftsmanship and skill of wig artisans. They are meticulously crafted by expert wig makers who take pride in their work. Each wig is a work of art, featuring intricate and finely detailed braids that replicate the look and feel of natural hair. The braiding process involves hand-tying synthetic or human hair extensions to a wig cap, ensuring a secure and realistic appearance.
Diverse Styles for Every Occasion:
One of the most exciting aspects of braided wigs is their versatility. These wigs come in a wide range of styles, allowing individuals to experiment with different looks without the commitment of traditional braids. From classic box braids and Senegalese twists to micro braids and cornrows, the options are endless.
Easy Maintenance and Longevity:
Maintaining braids can be a time-consuming process, often requiring hours of intricate care and styling. The braid wigs, on the other hand, offer a hassle-free solution. They require minimal maintenance, making them ideal for those with busy schedules or those who prefer low-maintenance hairstyles. Simply store your wig properly when not in use, and it will maintain its beauty and integrity for a long time.
The Perfect Protective Style:
Braided wigs are not just a fashion statement; they also serve as an excellent protective style for your natural hair. By wearing a braided wig, you can give your hair a much-needed break from the stress of constant styling, heat, and chemical treatments. This can promote healthy hair growth and reduce the risk of damage, breakage, and split ends. Whether you're transitioning to natural hair or simply looking to protect your locks, a braided wig can be your go-to solution.
Customization and Personalization:
Braided wigs offer endless opportunities for personalization. You can choose the length, color, and thickness of the braids, ensuring your wig reflects your unique style. Some wig makers even allow for custom orders, where you can request specific details to make your wig one of a kind. This level of customization means you can confidently express your individuality and creativity through your hairstyle.
In conclusion, braided wigs have transformed the way we approach hairstyling. They combine the beauty and intricacy of braids with the convenience and versatility of wigs, offering wearers the chance to express their individuality and experiment with diverse styles. Whether you're looking for an easy-care protective style or a bold statement piece, a braided wig is the answer. Their artistry, durability, and diversity make them a beloved accessory in the world of fashion and beauty, making it clear that braids will always be in style.