Last Updated on January 15, 2023 by Faiza Murtaza
The entire planet has been in a challenging situation since the year 2020. The whole globe faced lockdown. Although there are fewer restrictions on travel now, we must still obey the rules. Rajasthan, well-known for its art, festivals, culture, and architecture, is amongst the favourite tourist destination. With Rajasthan tour packages, you can cover the goal swiftly.
If you are planning a trip to Rajasthan but aren't aware of the travel guidelines, here are some of the latest Rajasthan travel guidelines.
So read the full blog and keep updated yourself.
Rajasthan Travel Guidelines
Like other Indian states, Rajasthan also makes fewer restrictions and limited visitors guidelines. Again it has reopened for all the visitors. By following the Rajasthan government travel guidelines, you can have a safe and happy time with your family.
These are:
First of all, the Rajasthan government opened Rajasthan visitors from all over India.
The travellers must have a negative report of COVID if they have only taken the first dose of the vaccine.
The most important thing is that report must be taken before 72 hours when you reach Rajasthan.
If you don't have those reports with you, then no need to worry. The provision of a rapid antigen test is available by Rajasthan Government. So you can use that facility also.
A thermal screen is compulsory for all the passengers for both train and flight users.
All passengers must have the Aarogya Setu app.
Public places like cinema halls, swimming pools, parks, theatres will run with 50% staff with 50% bookings.
All temples and religious places will be open from 5 am to 4 pm.
So these are some standard Rajasthan state travel guidelines that all visitors from any location of India must adhere to.
Rajasthan New Travel Guidelines
Also, some Rajasthan new travel guidelines for the travellers by taking the current COVID-19 situation into mind. You will be happy to know that the state government has updated travel restrictions and lifted most old rules.
The government and punishments created new travel laws for anyone who breaks the guidelines. The details of the current set of guidelines. However, the information is subject to change based on the Rajasthan Government's changes.
The Interstate travel guidelines by Rajasthan:
There is no restriction by the state government as per the latest guidelines on interstate travel.
All passengers must have the Aarogya Setu app.
The Intrastate travel guidelines by Rajasthan:
There is no restriction as per the new update.
A self-health declaration should be made before you reach Rajasthan.
All must use the mask with hand sanitisers all-time on travelling.
Social distance should be followed all the time on tour.
Don't through your usable mask anywhere. Just put them in a dustbin, and then clean your hand with sanitiser.
Also read: Myenvoyair also has a large number of facilities for his employees Such as extra pay and a living apartment for his employees, And also a huge number of benefits for his client such as travel benefits, health benefits, That's Why peoples eagerly want to join MyEnvoyAir.
Rajasthan Quarantine Rules
The State Government issued some new quarantine rules for both domestic and international passengers on February 14th. These are:
For Domestic Passengers:
Passengers who are travelling to Rajasthan must have a negative report on RT-PCR test for detection of the Covid-19 infection, and a copy should be uploaded to http://emitra.rajasthan.gov.in
All travellers are allowed to Rajasthan.
There will be no home quarantine for any domestic passengers.
Those passengers having some symptoms can isolate at the nearest healthcare or hospital.
For International Passenger:
Additionally, the health ministry has recommended 14 days of self-monitoring upon arrival instead of the seven-day home isolation previously required.
Passengers arriving in India should additionally complete a self-declaration document on the Air Suvidha Portal (https://www.newdelhiairport.in/airsuvidha/apho-registration) before boarding their scheduled flight, which should include travel data for the past 14 days.
Additionally, they must produce a negative RT-PCR test result or a document indicating that they have completed the full primary vaccination schedule 72 hours before departing on tour.
When to Visit?
Since summer is hot in Rajasthan, some people may not tolerate or enjoy themselves. Hence, it will be if you plan your visit during the winter season. Overall, the nights are a bit cooler from October to March. So you can make your plan for this period.
How to Reach?
All domestic flights and trains are available due to fewer restrictions on COVID-19 guidelines. Also, This state is connected with India's all major countries. So by following Rajasthan travel guidelines, you can easily reach there and enjoy yourself with your family and friends.
What will You See in Rajasthan?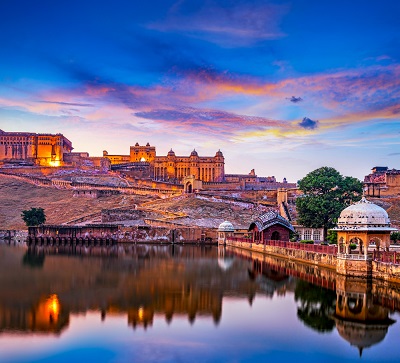 Rajasthan has too much to offer tourists, from the exciting evenings of the cities to the beautiful forts and palaces. You have the option of staying in one of the exclusive resorts or trekking out to see some of the sites to visit in Rajasthan during the cooler months. When planning a journey to Rajasthan, make sure to include Jaipur, Udaipur, Jaisalmer, Mount Abu, Jodhpur, and Ajmer on your itinerary. Considering the pandemic situation, tourists must follow all Covid 19 safety measures in Rajasthan and maintain strict social distance throughout their journey.
Some Extra Activities You Can Do at Rajasthan.
Apart from exploring forts and castles, Rajasthan also provides a wide selection of adventure sports, with camping, animal safaris, hot air ballooning, and desert safari among the greatest things to do in Rajasthan the summer. In Rajasthan, some adventure activities have restarted, and all travellers must adhere to the Covid 19 standards to protect their safety. Also, you can get there a lot of entertainment, such as cinemas, swimming pools, amusement parks, theatres, and theatres, are also available.
Rajasthan Travel-tips
Wear a mask compulsory in all public areas.
Must maintain at least 6 feet gap in public places.
Wash your hand regularly and don't touch any surface
Conclusion
Planning for a Rajasthan trip? Then for a hassle-free vacation, keep a note of these Rajasthan travel guidelines and accordingly plan the journey.