Last Updated on March 14, 2023 by
Instagram has created an important place in the world of the internet. There are nearly 1.3 billion active users on Instagram. For a brand to become successful, having an Instagram presence is crucial in the brand's journey.
If you wish to capture your audience's attention as an event organizer, you have to be where your attendees are- on Instagram. So, before you plan on organising an event, you must have a solid Instagram strategy that can help you to boost the event engagement for your audience.
That's why we have decided to bring this ultimate guide for you to know how you can enhance your event's engagement that leads to its success. So, keep reading to learn it all!
Top Ideas To Enhance Your Event
Engagement With Instagram
Here are some unique ideas to enhance your event engagement with Instagram
Organize Hashtag Campaign On Instagram
Organize a hashtag campaign or contest on Instagram. Choose a unique, memorable, and relatable hashtag, so you can easily find your event content. You don't have to waste time filtering the content that is not related to your event. Memorable & relatable will impact your event attendees and encourage them to participate in the hashtag campaign.
Make sure to promote your event hashtag as much as possible so that more attendees use it. Creating a hashtag contest with exciting prizes for the winners will encourage more attendees to participate. You can tell the attendees you will announce the winners at the end. It will ensure a continuous flow of content till the end of the event.
Create An Instagram Social Wall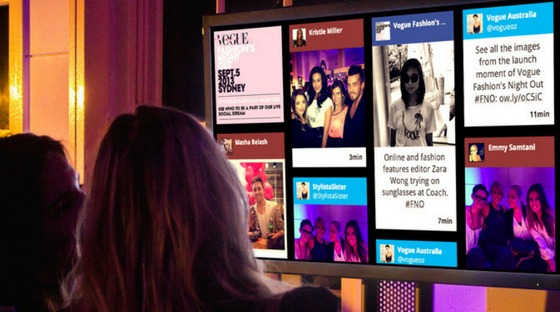 Social media wall offers an attractive appeal to your event and improves your social media visibility. Not only that, but the real-time update feature creates social proof among your event attendees, and they are encouraged to create content for you.
Create A Filter On Instagram
Instagram users love filters, we know that because we see them on an everyday basis. And why wouldn't they, filters can be very creative and help them create some visually appealing content on their Instagram story. Create a unique filter for your event, using your event's theme and colours and encourage the attendees to use it.
When your attendees will use the filter, they will be hooked and post on their Instagram. It will capture more attention, helping you generate more buzz around your event and offering the attendees something engaging.
Go Live On Instagram
Instagram has a free feature that enables you to go live on Instagram. This is a great way to offer your followers an insight into your event. You can go live with the attendees where you can go to each attendee and ask them to share their experience around the event.
Ensure that they are aware of you going live. This also acts great around creating user-generated content around your event. It will capture the attention of your followers, increase buzz around your event and gain prospects for your future events.
Create A Reels Trend
Reels have become a hot prospect of Instagram. Users love watching Reels and creating them too. You can choose a trendy song and encourage your event attendees to create Reels on it.
You can even create an engagement hub at your event with props and lighting where attendees can create Reels and post them on Instagram. It can be a fun engagement activity.
Let's Call It A Wrap!
Alas! We reach the end of the ultimate Instagram guide to enhance your event engagement. We just shared some unique ideas with you that will help you boost your event's engagement rate like never before.
Instagram is here to stay and slay, and it's up to you how you make the most out of this fantastic platform. Now, you might as well use this blog as your handbook to create unforgettable event experiences for your event attendees.
Au revoir!
Read More: The Definitive Guide To Conducting An Instagram Audit