Last Updated on August 3, 2023 by
Certain countries focus on embracing the spring season in Easter and while in others, the celebrations are more religious. Easter is a time of year that conveys the good news of Jesus' salvation. It's also a shared celebration of Jesus' resurrection and the new life in Him. Though we remember that truth throughout the year, Easter is a deeply moving occasion celebrated across the globe.
There lies the tradition of exchanging Easter baskets on Easter, and Here is why we would like to suggest amazing ideas for Easter gift baskets for you:
1. Cheese gourmet basket
Carefully chosen and thoughtfully organized hampers with cheese items are enough to steal anyone's heart. You can add truffle balls, snack chips, biscuits, and caramel fillings as sides with different kinds of cheese. Mozzarella, Cheddar, Emmental, Gouda, feta, Brie, and parmesan are the sorts of cheese easily available online and at food outlets.
2. Wine and champagne as an Easter gift for adults
If you plan to gift an adult this Easter, you can safely think of enclosing a wine and champagne gift basket. The finest touch and flavor of the best-reaped grapes will leave a rich impression overall, and do not forget to drape the basket beautifully. You should add a cushion-like base and side molds of fabric to avoid damage to the bottles. Also, be extra careful while taking bottles home if there is no option of gift basket delivery. You can be more expressive by siding them with nutcrackers, cheese spreads, and popcorns of any flavor- strawberry, salted, chocolate, caramel, and coffee.
3. Chocolates loaded gift basket
Who does not like chocolates? Everyone does. To make this coming Easter memorable, try getting chocolates in bulk and group them in one basket to leave a personal note of love and respect. Smooth textured chocolates of different flavors of caramel, white chocolate, dark chocolate, and nuts. You can add chocolates of different sizes and then lace the basket with a golden ribbon. Interestingly, these baskets are for all occasions and group ages.
4. EASTER EGGS BASKET
European folklore claims that a supernatural rabbit delivered a basket full of colored eggs to nice little children. Then you may fill it with traditional treats like decorated eggs, marshmallow chicks, chocolate candy, and stuffed bunny toys. These baskets are fantastic and ideal for newborns and children. You can add reading books, candy creatures, and egg soaps to make a crisp for teenagers. So go ahead and use all of your colors to create a sweet basket full of taste and affection.
5. Foodie Easter Basket
If you are offering a basket to someone who is a cook or is into cooking, you can add kitchen essentials to the Easter basket. Try adding olive oil, handmade recipe cards, ribboned beautiful cutlery, and more. It will give a very sophisticated look to the overall hamper, and the recipient will remember you for this.
6. Skincare basket
Skincare essentials are very important when we live in an environment fused with pollutants. Giving a gift basket with skincare products will enrich one's celebration and skin health. You can add chemical-free and hydrating skin lotions, face massage rollers, mask sheets, and Gua Sha stones. Make sure you keep an eye on the expiration of the products and allergies of the recipient if any.
7. Easter Basket of surprises
There lies creativity in this idea. You have to follow a few steps :
Step 1:
Take balloons and squash air into them.
Step 2:
Add chocolates, candies, toys, rings, and chains into these blown balloons.
Step 3:
Take POP ( Plaster of Paris ) and add water to it. Add until it achieves thick and thin consistency.
Step 4:
Apply it to the balloons.
Step 5:
Let them dry for 2 days.
Step 6:
Paint the coated balloons with shiny paints and side them in a basket with a stuffed rabbit toy.
This easter gift basket will look exceptional and steal the recipients' hearts.
8. Basket for Gardeners
Some spend more time in the garden. Please give them a basket stocked with one-of-a-kind gardening presents, including a stone rabbit statue, customized tools, and seed bombs this Easter.
9. Eco-Friendly gift basket
An environmentally responsible mindset benefits everyone: you, the recipient, and the planet. Wheatgrass grows as quickly as a rabbit in this naturally grown garden-in-a-basket in just 10 days. As a result, the basket is sweeter and more environmentally friendly than those made with artificial fillings.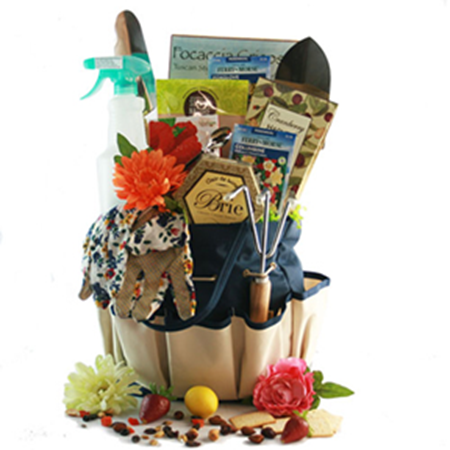 10. Basket full of clothing
It is simple: take a basket and put slices of different fabrics-sequined, prints, plains, and net. Add tailoring essentials like pearl endpins, buttons, needles, and a wooden embroidery hoop ring. This basket is amazing for those who want to learn to tailor and are at the start of developing tailoring skills.
Hope our insights on Easter shopping helped you. Do not forget to be creative this Easter and try acting on our Easter gift basket ideas. Flood them with items matching the preferences of the recipient. Keep a check on the safety of bottles, the expiration of the purchased items, and your budget allocations.
HAPPY EASTER, HAPPY SHOPPING!
Read more: 7 secrets methods can make your gift boxes look amazing